11/09/2009
The new Emma Cook Booties for Topshop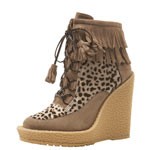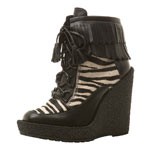 > KNOW IF I LIKE THEM OR NOT...IT'S THE WEIRD PART OF A FASHIONISTA : YOU CAN HATE SOMETHING AND SUDDENLY ADORE IT, OR TERRIBLY BE OBSESSED WITH SOMETHING, AND THE NEXT DAY HATE IT... FASHION IS DEFINITIVELY A REAL PASSION ::
> THE BROWN ONES ARE NOT IN MY COLOR PALETTE ::
THE ZEBRA ONES ARE BLACK AND I CN'T REASONABLY BUY ANOTHER PAIR OF BLACK SHOES (AFTER THINKING ABOUT THE MCQUEEN AND THE PUMA STILETTO) ::
> CONCLUSION : IF I FALL IN LOVE WITH A PAIR, IT WILL BE THE CAMEL ONES. TELLING THAT I FEEL I BEGIN TO HAVE A CRUSH ON THEM !
> URGHH ! TOPSHOP DOES'NT HAVE MY SIZE ANYMORE !!!